The Best Tippmann Paintball Guns for sale in 2016

Finding the best paintball gun to fit your needs isn't always an easy task. There are so many different styles of paintball guns on the market today it can be a bit confusing to find which one is right for you. Luckily our team has made it easy for you! Tippmann paintball guns are universally recognized as the leading brand in the world when it comes to extreme performance and build quality. They also offer a wide range of models for any skill level. Whether you are beginner or pro, there is the perfect paintball gun out there for you. We have categorized the top selling and reviewed Tippmann paintball guns as either beginner, intermediate, or professional in our quick reference guide. Our goal is to help you save time and money by making sure you get the absolute best for your experience level, while sharing our love of paintball with the world!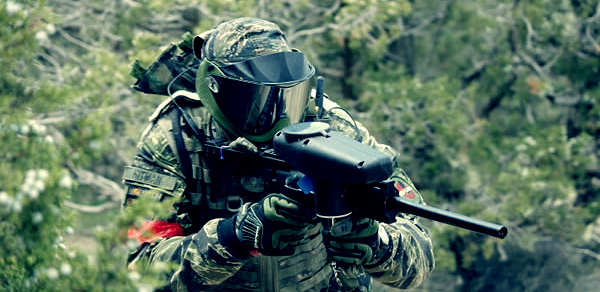 The Top Rated Tippmann Paintball Guns for sale in 2016

---
Tippmann 98 Custom – Best Enthusiast Beginner Paintball Gun
This is one of the Classic Tippmann paintball guns that's great for beginners getting into this action sport. It has great performance and a fantastic entry level price point, making it one of the best paintball guns for people new to the sport. Mechanical operation powered by CO2 or HPA. Intgrated rail system is great for optics or laser sights. One of the most popular paintball guns in the world. Read our full hands on Review HERE.
Our Rating: 4.5/5
---
Tippmann Chronus – Entry Level Tactical Paintball Gun
A great entry into the more tactical and realistic looking Tippmann paintball guns. A removable barrel shield and stock add a cool look to this intermediate level gun. Extremely positive user reviews on this one and it is known for it's accuracy. The Chronus does not disappoint!
Our Rating: 4.7/5
---
One of several US Army Branded Tippmann paintball guns, in the visual style of a M4A1 assault rife. Always turns heads on the field and is amazing for those into tactical simulation.
Our Rating: 4.5/5
---
The evolution of the Alpha into a professional level marker. Extremely accurate and comes equipped with a flip down front grip and red dot sight (RDS) for added accuracy in the heat of battle. Perfect for anyone looking to upgrade from their beginner level painball gun and get serious about the sport.
Our Rating: 4.4/5
---
Tippmann A5  – Pro  Level Customizable Paintball Gun
This is a near top of the line Tippman paintball gun and for good reason. It's cyclone feed system allows it to fire up to 15 balls a second, without the need for a battery. Highly accurate and compact the A5 is deadly in the hands of a seasoned pro. Similar design to the 98 custom, but on a whole new level. You can also swap out the grip for an electronic full auto and single shot fire modes. This is the best paintball gun for an intermediate player.
Our Rating: 4.6/5
---
Tippmann X7 Phenom – Elite  Level Customizable Paintball Gun
The X7 is one of the most popular elite level paintball guns on the market. It is fully customizable, with body attachments you can make it look like an AK-47, M4A1, or even extend the barrrel to convert it to a full on Sniper paintball gun. This marker is for serious players. Extreme performance and durability make this Tippman paintball gun the choice of many professional woodsball players.
Our Rating: 5/5
---
Choosing The Best Paintball Gun For Your Play Style

Your experience level and favorite game type  should vastly impact your purchasing decision when it comes to Tippmann paintball guns. If you are a fan of woodsball (field combat), scurrying around outdoors in between the trees, you are going to want a paintball gun with a longer range, and possibly a stock for added accuracy during long range shoot outs. Something like the US Army Alpha Elite would suit you well. Fans of RecBall (indoors with bunkers and structures) might lean towards something more compact, possibly with a stock for added stability when rounding tight corners. In this case, the Chronus, X7 Phenom or the 98 Custom are all great choices depending on your budget. Finally, for speedball, accuracy is not a major issue as quickly putting balls down range. We would recommend the Tippmann A5 package as a well rounded gun for any situation. It's tight accuracy along with its high rate of fire makes it a superb mid level choice. The info below is designed to help you find the best paintball gun for your needs.
---
Beginner/ Intermediate/ Pro: A Look At The Top 3 Tippmann Paintball Guns

The Tippmann 98 Custom: Best Entry Level Paintball Gun On The Market?
To say the 98 Custom is one of the most popular paintball markers on the planet would be an understatement. From the fantastic price point that makes it attractive to first time buyers entering the sport, to it's reliability and ease of use, there is no wonder why these things are constantly on back order at most local shops. The wide range of Tippman 98 custom upgrades available on makes it a fantastic choice that you can continue to build upon as you gain more experience. This is what separates it from your average cheap paintball guns from Wall-mart. Having the ability to swap in a custom barrel for added accuracy and range is a step up from big box store, mass produced markers. Adding a stock is also an option for those who like to add stability alongside their improved accuracy from custom barrels.  Finally, the universal Picatinny rail system allows for the addition of optics like a red dot sight for reflex sharp target acquisition. Many advanced players still have their 98 custom as a backup even after upgrading to a high end gun, great to loan to friends and get them into the sport as well! This Tippmann marker is a tried and true workhorse and quite possibly the best paintball gun for new players.
>>Click Here to read user reviews and check the price of the Tippmann 98 Custom online<<
The Tippmann A5: This Aint No Rookie Marker!
The Tippmann A4 is like the big brother to the 98 custom….on steroids! With tons of options for realistic looking body kits, you can make your A5 look like a menacing AK-47, tactical HK 417, , a Spec ops MP5-SD or whatever your favorite gun is. With a wide multitude of stocks, barrels, magazines, grips and barrels available, the combinations are almost endless. The gun itself has a fire selector on the grip for safety and single shot modes. You can also swap out the grip for an upgraded electronic trigger that supports full auto as well as single shot fire modes. Another sweet feature is the infamous A5 threaded barrel, which is compatible with a wide range of other paintball guns, making it easy to swap out. The A5 comes with a loader right out of the box, the Cyclone loading system, great for smoothly loading the gun and avoiding chopping paint. All this combines to make the Tippman A5 an extremely versatile mid range package for any serious player. One of the most popular Tippmann paintball guns for scenario players.
>>Click Here to read user reviews and check the price of the Tippmann A5 online<<
The Tippmann X7 Phenom: Elite Level Badassery
Badassery? Is that even a word? Who knows, but it certainly sums up this top tier paintball marker. Like the A5, the X7 Phenom (replacing the older x7 model) is insanely customizable and a common sight in simulation game types. The tactical visual upgrades look fantastic sitting atop the lightweight frame and it comes equipped with a mechanical single shot, but you can upgrade to the eGrip which has full auto, 3 round burst and single shot fire modes. Another cool e-grip feature: if the battery dies mid game, you can still switch to single shot which is powered by propellant, keeping you in the fight. switching the gun to safe mode also turns off the internal circuitry to save battery power.  This gun is deadly accurate over medium-long range and great for woodsball players, and the light frame combined with a compact body kit makes it perfect for close quarters Recball/scenario play. While the price point is significantly higher than the standard 98 custom, it has a well earned place in the hearts of many advanced level players, and one of the best Tippmann paintball guns on the market.
>>Click Here to read user reviews and find the Tippmann X7 Phenom online<<
---
 Mechanical or Electro Pneumatic systems: Which is best?
Your choice of marker means choosing between a mechanical firing system or an electro pneumatic one. In general electro pneumatic systems eat up less propellant as they are firing using a 9v battery instead of extra gas. Electric trigger systems also allow for burst and fully automatic firing modes, and increase the speed of single shot firing as well. Less moving parts also tends to mean a more accurate gun with less recoil when firing. Many serious paintball players tend to go electro on their grips/trigger systems and the popularity of the A5  and X7 eGrip speaks for itself.
A vast majority of the cheap paintball guns available today are just not worth your money when it comes to performance, value and durability. As the paintball industry continues to explode at an astounding rate, various companies are trying to cash in by flooding the market with low quality paintball guns. This is why we fully endorse the quality bar set by Tippmann paintball guns. You can rely on them to work efficiently every time you are out on the field. No one likes an awesome day of paintball cut short by a faulty gun, its just not fun. Below are some of the highest rated Tippmann paintball guns for sale in 2016, broken down in an easy to read comparison chart with all the essential info. Don't waste your time and money on a cheap paintball gun, when you could be dominating your opponents every time you step onto the field! Here at Planet-Paintball we hope to pass on our years of experience onto you to help you bring your skills to a whole new level. If you are looking for elite level professional paintball markers, consider checking out our Empire paintball guns page.